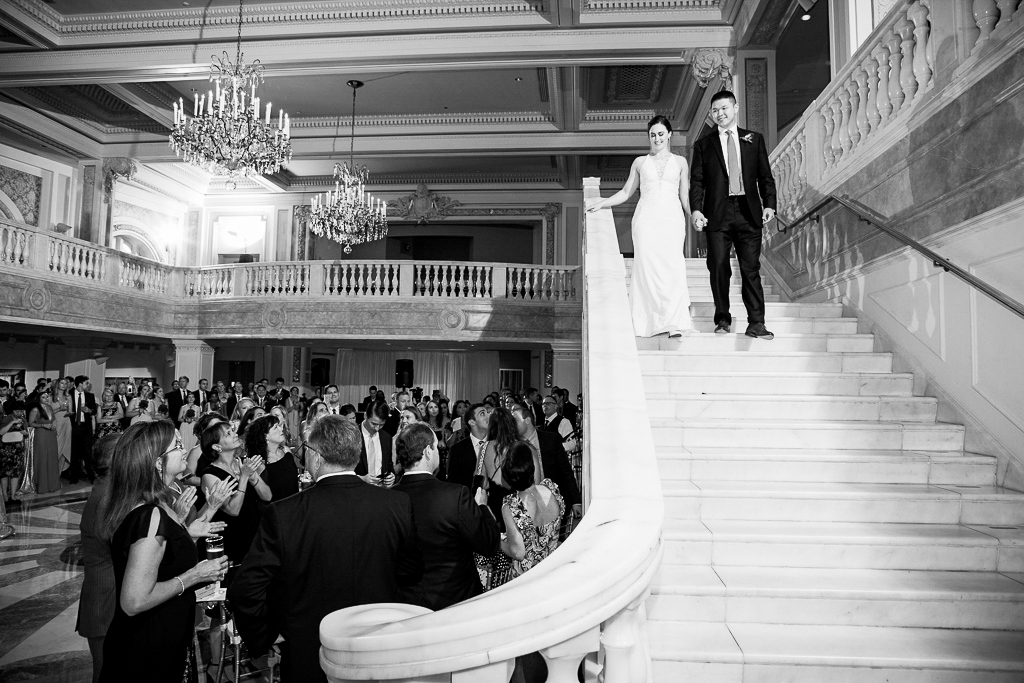 Creating your wedding guest list can be one of the most stressful parts of wedding planning. While it is only natural that you may want to share your joy with everyone, from your best friend to co-workers and your parents' business partners, the list can quickly become unmanageable. And since your wedding guest list will help determine your venue choice and budget, it's essential to get it under control. Luckily, French Door Events has some stress-free tips for how you can draft the perfect wedding guest list for your simply chic celebration.
Start Your Wedding Guest List with "Must-Invites"
Sit down as a couple and work together to add names of "must-invites" to your preliminary wedding guest list. These are the people who you simply can't imagine not being part of your special day, whether you have a vision for an intimate wedding or a larger affair. The first people you add should be those who have supported your dreams, influenced your life, stood by you during challenging times, or people who have been part of your major life milestones. Often, this first list is filled with your closest family and friends. Depending on your family and social circles, this list may include six people or 60.
Create a Secondary "Would Like to Include" Guest List
Next, think about the people you would like to include if your plans run toward a larger celebration. This list might consist of new friends, co-workers, extended family, neighbors, or suggestions from your parents. These are guests who would make your day even more special, but not necessarily people with whom you have a deep bond.
Make a Plus-One Plan as a Couple
Every additional guest will impact your wedding budget. By inviting plus-ones, you guarantee that your loved one has someone to talk to and dance with at the reception – particularly tempting if your invitee doesn't know any other guests at your wedding. However, you may be left with challenging decisions when it comes time to cut down the wedding guest list.
Do you include plus-ones if they have been long-term partners of your loved one? How do you feel about a friend or family member bringing a date they have just started seeing? Do your feelings about plus-ones change depending on whether your loved one is local or an out-of-towner? Making a plus-one plan from the beginning can help eliminate awkward conversations with invitees down the road.
Decide Your "Children Invited" Policy
On the one hand, you don't want any of your close friends to miss your wedding because they have childcare issues. And you understand that single parents might not be able to fly in for your wedding if children aren't invited. On the other hand, you may want to keep your intimate wedding an adults-only event with only some exceptions for children who are part of the wedding party or very close family members. Whatever your feelings on the subject, make that determination as a couple at the beginning of your wedding planning process before a single invitation is printed.
Narrow Down the Guest List
It isn't unusual for your first wedding guest list to be too long. Don't panic! While not everyone on your invite list will be able to attend, it is best to have a solid idea of how many people you would like to invite to your celebration before touring venues or making catering choices. This invariably means cutting down your list.
How do you limit your wedding guest list? Expert wedding planner Krystin Gill suggests asking yourselves two questions:
1. Would we call this person on a Friday night and invite them to our home for dinner?
2. Would we be likely to do that five or ten years from now?
Gill explains: "If the answer to either of those questions is no, then you should not feel pressured to invite that person to your wedding. Never feel pressured to share one of the most intimate and special days of your life with people who don't have a special connection to either of you or your families."
Finally, stick to your decisions once you cut your list. While it isn't a problem to add one or two names during the wedding planning process, significantly increasing the wedding guest list close to the big day can push you over budget. This may then force you to make concessions that you don't want to make to balance the costs. Stay true to your vision for your big day, and get ready to celebrate!