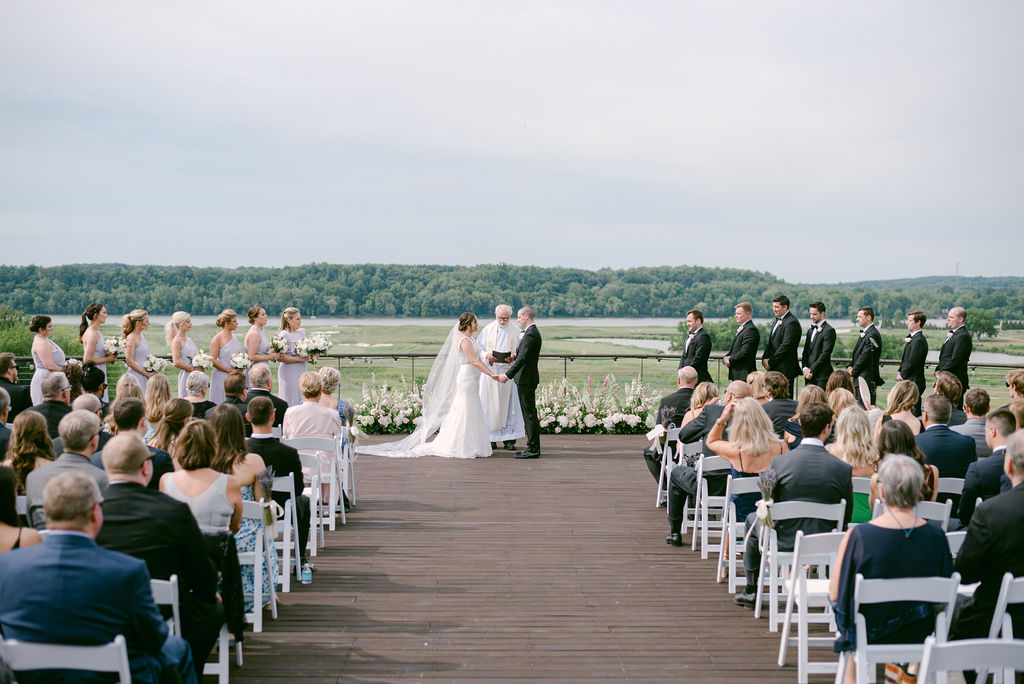 Day-of Wedding Coordinator, Month-of Wedding Coordinator, Wedding Management, Partial Wedding Planner – not all planners are created equal. We'll shed light on that these terms mean, and what you can expect!
Your wedding day will be one of the most memorable and thrilling days of your life, and you want it to run as smoothly as possible. Luckily, a wedding coordinator can help make this happen. Even when you opt to plan your celebration completely your own, managing the logistics of your big day while also trying to enjoy the experience is next to impossible. And who needs more stress on one of the most important days of their life? So, when you start wedding planning in earnest, consider the advantage of having a professional wedding coordinator who can handle any problems that might arise, work with your vendor team, and give you the peace of mind you want to truly enjoy this magical event.
What is a Day-Of Wedding Coordinator?
A day-of wedding coordinator or month-of wedding coordinator simply does not exist. While these terms are used a lot in the wedding industry – any reputable planner will tell you that the idea of having someone swoop in four weeks prior to your wedding to take care of every single detail for a flawlessly run wedding is a misnomer. The responsible way to approach wedding-day planning is through wedding management, where a planner or professional coordinator engages with you at least six months before your wedding day to discuss details and ensure you are on the right path for your wedding planning. A coordinator should be on hand to help answer your questions throughout the planning process and provide top-level planning guidance prior to your wedding day.
Then, on your wedding day, your wedding coordination team is responsible for managing all the moving parts associated with your event. When you're having your hair and makeup done with your bridal party, you don't want to worry about whether or not the flowers have arrived, the band or DJ is setting up, or any of the million and one details that are part of your festivities.
The day-of coordinator and their team (part of that larger wedding management effort) are responsible for handling all of those logistics. They will work with your vendor team, make sure that your event timeline is followed, and they can answer any last-minute questions (and handle any pop-up emergencies) so that you can focus on yourselves as a couple. Your wedding coordination team are the ones who find solutions to reseating a guest, locating the best man for his toast if he has gone astray, and discreetly cueing the band for an announcement. In short, the day-of coordinator solves the problems that always arise when hosting festivities with this many moving parts.
What are the Differences Between a Wedding Planner and a Day-Of Coordinator?
As K Bella Events & Styling explains, expert wedding planners offer invaluable advice; "for full planning clients, we're stylists, designers, budget managers, counselors, contract negotiators, day-of coordinators and so much more." Typically, an expert wedding planner works with a couple for an extended period of time. Ideally, they start working with a couple from the moment of their engagement to develop the budget, create the wedding vision, and expertly guide the couple through the multitude of decisions to be made.
Wedding planners help create a cohesive concept for all the elements of your big day. They will work with you to book not only a venue but also a vendor team who will work seamlessly together, from the entertainers to the caterer and floral designers. Planners can offer you access to their industry relationships, advise you on contingency planning, develop and manage your budget, and coordinate a team of assistants on the day-of to be sure that the finer details of your celebration are carried out to perfection.
Day-of coordinators are a critical component to any wedding, even ones that are meticulously planned by the couple. Many day-of coordinators or month-of coordinators are not involved in the initial planning, but claim to help you realize your wedding dreams and help ensure that your plans are beautifully orchestrated. Perfectly planned wedding days do not come to fruition through only a couple of weeks-long effort, they are the result of thoughtful planning for months prior to your big day.
Coordinators at French Door Events approach wedding coordination comprehensively.
"As soon as you engage our services, our team consults with you on your planning journey, months before your wedding. We'll help cultivate your initial wedding day timeline, answer questions that arise during the planning process to help you avoid pitfalls, and we provide you with the tools you need to execute on decisions along the way. Then, three months prior to your wedding, we'll become the primary point of contact for all vendors; finalize your wedding day timeline, help with fine-tuning the logistical details, attend your walkthrough, and help manage your wedding rehearsal. On your wedding day, our team will ensure that all wedding day coordination logistics are executed flawlessly. Working diligently behind the scenes, we'll make sure that everyone and everything is in the perfect position at just the right time, and tie everything up with a bow!"
Will My Coordinator Assist at the Rehearsal?
Yes. Depending on your contract and the company, your day-of wedding coordinator will usually help run the rehearsal. It's an excellent opportunity for the coordinator to work with the couple and the families to be sure that they understand where they need to be and the event timeline. It's also valuable to ensure that everyone is on the same page regarding the last-minute details. In some cases, your day-of wedding coordinator can also be hired to assist on pre-and post-wedding events, from rehearsal dinners to morning-after brunches.
Will My Venue Provide a Coordinator?
Sometimes. Venues that frequently host weddings may offer the services of a day-of wedding coordinator as part of your venue package. Typically, they work with you and your wedding planner to set catering and venue details, make suggestions about the venue's preferred vendors, offer recommendations about venue set-up, as well as some day-of assistance. While most reputable venues provide a venue coordinator, this is not the same as having a dedicated wedding management team.
Venue coordinators are primarily on site to help manage the facility – they are not going to provide the level of attention and detail that your wedding-day coordinator will provide – someone who knows all of the inns and outs of your plans for the day. We strongly recommend hiring a dedicated wedding coordinator to ensure all of your months of planning and wedding day investment goes off without a hitch. Also, in the absence of a venue coordinator, if for instance if you are hosting a wedding at a private property, you should absolutely hire a wedding management team to assist you with the planning of your event.
What Is The Cost of a Day-Of Wedding Coordinator?
The costs associated with a day-of wedding coordinator (or wedding management team) will vary depending on your location and exactly what your needs are. The more extensive the services package is, the more expensive. Our planners at French Door Events recommend budgeting approximately between $3,000 and $5,000 for a wedding coordination or wedding management if you are located in the greater Washington, D.C. area or Northern Virginia.